New World Ronin: Strategies for Artists, Entrepreneurs, Rebels, Warriors and Outcasts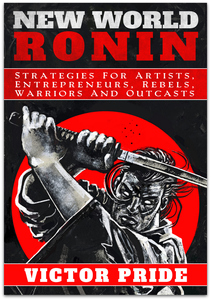 New World Ronin by Victor Pride
Having followed Victor Pride (aka Nick Kelly) for the last 3 years I was not sure what to expect with his new offering New World Ronin (NWR).
I faithfully followed his 2 previous e-books:
30 Days of Discipline: The Bootcamp for Winners
Both of which pushed me forward in my own life and were stepping stones to gaining clarity of vision.
Both focused on Mind and Body.
30DOD – Mind
BOAS – Body
The missing key ingredient, something which I talk about often as the Golden Trifecta, is the Spirit.
Develop Your Spirit
It is difficult to talk about Spirit without sounding too religious or condescending.  In particular, NWR focuses on the spiritual nature of doing the work, starting a business, and being self-made and self-paid.
Having spent literally TENS OF THOUSANDS of dollars with so-called "online biz gurus", I never found the missing link in simple, every-man language.
What they were all lacking, I found in NWR.
Your Spirit is your Purpose in life.  It's what gets you out of bed early.  It's what pushes you in those moments of weakness.
I've known what my purpose is for quite some time, and it was solidified at the beginning of 2016 while on El Cerrito beach in Cabo San Lucas.
My purpose is Truth.  The cold hard ugly Truth and to speak what others are afraid to.  I am a martyr for those with no voice.  The Every-Man.
What NWR showed me was how to make my Purpose, the Truth, my Business.
I began following Uncle Vic's advice to do daily video content for 1 year.  Having started around July 2016 I began to see success around October 2016.  I jumped from 250 to 2,500 subscribers on YouTube and over 100 on my VIP email list.
What NWR did for me was put into words the exact formula for turning your purpose into a business.
The essentials are this:
Work everyday, 365 days a year – NO DAYS OFF
Work consists of 2 types: Black and White (B&W) and Full Color
The B&W work is the daily, mundane bullshit you must stay on top of.  Paperwork, paying bills, sending business emails.  Basically staying on top of your shit.
Full Color work is the creative work that makes you $$.  For me, this is the videos, podcasts, online training courses, and soon-to-be Sci-fi novel "Digital Pimpz".
Revealing the Method
The Method is revealed in NWR.  But I caution you the reader, this book is not for everyone.
Not everyone is ready for the stone-cold hard truths laid out in this book.  It was only because I'd spent so much time and $$ searching for the Method that this book spoke to me.
For those just starting out on their journey in online business, or those who have not found their Purpose, reading NWR will not give you the magical epiphany you crave.
Most of the language and concepts will seem foreign to you if you're just starting your journey.
I advise you to give it time.  This is not a magic pill.  This only lays out the simple Methods.  It is up to you to take the first step – Action.
Not just one or two actions.  I'm talking consistent action each and every day.
"The Way Of Always Moving Forward"
How long will it take to see success?  AS LONG AS IT TAKES.  That's how long.
The answers are very simple.  What NWR does is it puts a mirror in front of you and shows you the only answer:
It's up to YOU to do the work!
Full Color Godcast
In addition to the information you receive with New World Ronin, you get an added bonus in the form of a new podcast series from Victor Pride called the "Full Color Godcast" (FCG).
As of this writing it is only available here on iTunes.
The FCG fills in the blanks and provides additional commentary on the topics described in New World Ronin.
All 36 episodes of the FCG include answers to questions from the followers of Victor Pride.
In it he shows you how to speak your way to the Truth.
UPDATE: Victor Pride has since taken down the Full Color Godcast and replaced it with the Bold & Determined Podcast available here.
The Truth is spoken into existence.  In true form, instead of telling you what to do, Uncle Vic SHOWS you what to do by his actions.
Actions speak louder than words.
I would not study NWR without listening to each Full Color Godcast.
They go hand in hand and it is an excellent way to get the most out of your investment.
Conclusion
What I appreciate most about NWR was that it was written without any fancy "guru" dialogue or false promises.  The new age of digital marketing is not fancy graphics and over-hyped keywords.  The future of digital marketing is speaking in simple words and showing results.
Looking at the rise of Victor Pride and his foundational blog BoldandDetermined.com you will see the results for themselves.
Article after article of value-packed information for improving your life.
The work is all there.
All you have to do is do the work.  Pretty simple.
Treat this book like a bible.  Don't read it.  STUDY it.  It is a manual for greatness.
You can purchase New World Ronin by Victor Pride in paperback, Kindle, or PDF formats.